These are a few basics of sanitary ball valves that you need to know before making your purchases. If you are looking for high-quality sanitary ball valve manufacturers, feel free to get in touch and discuss your needs today!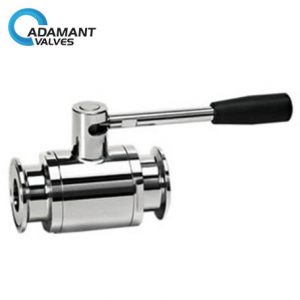 Sanitary ball valves are among the common sanitary valves on the market. In simple terms, it works with a quarter turn to regulate the water flow. This valve consists of a spherical washer and therefore it is usually called a ball valve. It has a ball-like structure with a hole in the middle. If this hole and both ends of the valve are in the same line, it allows the liquid to flow.
Sanitary ball valves come in manual or automatic mode. The valves with the manual operation are equipped with quarter-turn handles made of stainless steel. It works with the technology to lock the valves in the open or closed position. While in automatic ball valve operation the ball valves work with maintenance-free pneumatic standard drives.
What are the major features of Sanitary Ball Valves?
The special feature of the ball valve is the spherical component that rotates in a ball-shaped disc. A hole is drilled through the sphere. The hole is then aligned with the inlet and outlet of the pipe in the body valve. The bore in the ball must be the same size as the diameter of the inlet and outlet pipes. This prevents the internal variation of pressure when the valve is fully open and the liquid is at full speed.
What Are the Benefits of Sanitary Ball Valves?
Sanitary ball valves are particularly useful if we want to completely shut off the liquid flow. The shut-off valve in your main line is just one example of this situation. Therefore, these valves are ideal for applications where a completely closed or fully open arrangement is required. However, one should not choose these valves if the application requires a fine adjustment of the water flow.
Check valve, gate valve, shut-off valve, vent valve, butterfly valve are some examples of other types of sanitary valves. The important question here is why sanitary ball valves are ideal when there are so many other types of valves to choose from. The answer is that this valve has a number of advantages over others. The life of these valves is longer and they are cheaper due to their simple and strong structure.
Sanitary ball valves work well even under conditions of high pressure, high volume and high temperature. More attractive are operation and maintenance of these devices.
How to assemble Sanitary Ball Valves?
Weld Ball Valves – The assembly of these types of valves involves complete welding. No leakage is felt by bolting or other joints. These valves cannot be maintained or maintained. Welded ball valves are generally used in applications where no maintenance is planned. This includes buried or underground applications such as submarine applications and gas transmission.
Top Entry Ball Valves – These valves are assembled with the spherical portion on the top side. They look like a valve with a body and a bonnet, only on the thin part, a ball valve is used. This valve consists of a single body. Top entry sanitary ball valves are usually made from cast metal. Due to the use of casting metal, additional NDE tests are required to ensure that there are no defects resulting from the casting process.
Side Entry Ball Valves – They are assembled with the ball by the side. The assembly generally comprises two-part or three-part body parts. A bolt or stud is used to assemble each body part in a manner similar to the junction of two flanges. These valves are usually made from forged metal. Each component is forged separately before being assembled. This type of construction minimizes common defects in the casting process. These types of sanitary ball valves are easy to assemble because their packing components easily align with each other.
How to Use and Maintain Sanitary Ball Valves?
When it comes to repairing and maintaining sanitary ball valves, you do not have to spend a lot of money on that. Plus, you do not have to worry about repair. In case of problems, it is easy to replace any room without much effort. Any qualified mechanic can easily do this job. All he needs to do is remove the nuts and screws attached and find out which part is not working properly. This is a very important feature for industrial use as it prevents manufacturers from large losses by reducing production losses.
For more information, please visit http://www.adamantvalves.com/