Adamant Valves supplies all kinds of high-quality valves such as sanitary butterfly valves, sanitary ball valves, sanitary diaphragm valves, sanitary shut off valve, etc. Adamant Valves has been audited and certified as meeting the full requirements of ISO 9001, 3A, CE, FDA, TUV,  including design, manufacture, inspection, customer service, and distribution functions. Our experienced engineers work closely with each customer to find out the best possible solutions. Our constant technical innovation combined with stringent quality control systems has enabled us to deliver high performance and outstanding value in sanitary applications. We are dedicated to improving the performance and value of our products, services, and solutions to meet your ever-changing requirements.
What is a sanitary valve?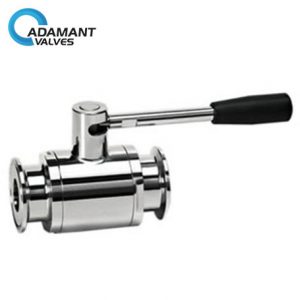 A sanitary valve is designed for use in applications requiring clean or sterile processing. Sanitary valves are commonly used in dairy, food, pharmaceutical, medical, and chemical applications. Their common features include easy cleaning, crevice free, and polished contact surfaces.
Important specifications when considering sanitary valves include diameter, working pressure, and operating temperature. The diameter is measured across the inlet or outlet port. The working pressure is the pressure at which the valve is designed to operate. The operating temperature is the full-required range of ambient operating temperature. Media types that sanitary valves can be configured to work with include gases, liquids, and liquids with suspended solids. The material temperature is the range of temperature that the valve can withstand and still function properly. This relates to the media being transported, not the ambient or operating temperature outside of the system.
Basic types of sanitary valves
Applications of sanitary valves
Sanitary valves are widely used in the dairy, food, beverage, pharmaceutical, cosmetic, and other industrial markets.
Comments from our customer:
We were surprised that Adamant Valves could quote such a quick delivery, but when the valves arrived 2 days before the promise date, we were thrilled!  The quality of the sanitary valves provided by Adamant Valves is second to none, and we are amazed at the great prices!
I work in a food factory. In the past, our factory used ordinary valves, and the food was easily contaminated, resulting in heavy losses. Now, with the sanitary valves from Adamant Valves, safety and hygiene have improved. If you are also in the food industry, I recommend you try a sanitary valve.
At first I didn't know how and where to buy a sanitary valve, and thank to a friend who recommends me Adamant Valves. To be honest, I was very satisfied with this company. It has been built for many years and is specialized in sanitary valves, so the quality of its sanitary valves is guaranteed.