Pipe fitting or pipefitting is the occupation of installing or repairing piping or tubing systems that carry liquids, gases and sometimes solid materials. This involves the selection and preparation of pipes or tubes, their assembly by various means, and the location and repair of leaks. A pipefitter is a tradesperson who installs, assembles, fabricates, maintains and repairs mechanical piping systems. Materials, techniques and uses vary from country to country, as different countries have different standards for installing pipes.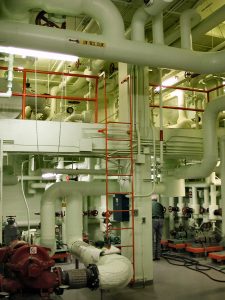 Piping installation work is done in many different contexts: HVAC, manufacturing, hydraulics, refineries, nuclear supercars and fast-attack submarines, computer chip manufacturing plants, power plant construction and other steam systems. Pipefitters (sometimes referred to simply as "fitters") are represented in the United States and Canada by the United Association of Journeymen and Apprentices of the Plumbing and Pipefitting Industry of the United States and Canada.
Pipefitters work with a variety of pipes and piping materials, including several types of steel, copper, iron, aluminum and plastic. The pipe fitting is not plumbing; both are related but separate trades. Pipefitters who specialize in fire prevention are called Sprinklerfitters, another related but separate trade. Sanitary fittings of 304 and 316L stainless steel are used in the food, dairy, beverage, cosmetic, pharmaceutical, and fine chemical industries, which fitters sometimes install.